Office based laser liposuction done under local anesthesia.
You've tried dieting. You've tried exercise. But parts of your body have simply refused to tone up. Now you can change all that.
Laser Body Sculpting is a revolutionary, minimally invasive treatment that does something no fitness routine in the world can: permanently destroy fat cells. Since you have only a finite amount of these, no new fat cells come back—and you can finally have that body you've always wanted.
---
View before and after photos of treatments done at Ultima.
Download the treatment brochure: LaserBodySculpting Brochure (PDF – 100 KB)
Watch a video on the procedure: SmartLipo "Beverly Hills Cosmetics" Liposuction of future (link to streaming video)
---
Smartlipo™ Laser Body Sculpting Laserlipolysis
SmartLipo™ is the first and only FDA approved laser-assisted lipolysis (Liposuction) technique to offer a revolutionary and minimally invasive procedure for the removal of fat. It's a new Laser Body Sculpting procedure with less down time and fewer side effects than traditional liposuction. The procedure will improve the body's shape and may improve cellulite to a certain degree and will tighten sagging skin.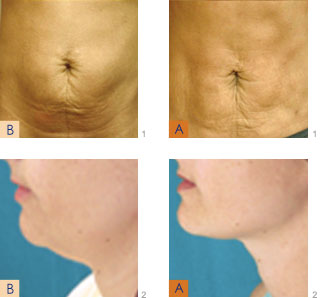 How SmartLipo™ Works
The word "laser" is an acronym for Light Amplification by Stimulated Emission of Radiation. Precise and safe, today's medical-grade lasers work by creating a powerful light beam that is adjusted to a specific frequency range. SmartLipo is different in that it uses a carefully calibrated laser to liquefy fat deposits through the top layers of the patient's skin. The laser actually ruptures fat cells, and the resulting oily liquid substance is then removed through a tiny incision in the skin by suction. The small laser can also seal blood vessels as it zaps fat, so there is less swelling, bleeding and bruising than with traditional liposuction. Research has shown that little, if any, fat is reabsorbed back into the body. The minimal invasiveness of the procedure allows patients to see faster results and to experience fewer complications. In addition, SmartLipo's patients need only a local anesthetic for this procedure, whereas liposuction requires general anesthesia. Because the patient is not completely unconscious, SmartLipo carries much fewer risks than traditional liposuction, and the recovery time is much shorter.
See How Smartlipo Works!
Is SmartLipo Right for You?
Almost anyone can be a good candidate for SmartLipo. In general, the ideal candidate: (1) is in good health, exercises regularly, is within 30 lbs. of his or her ideal weight; (2) has one or more areas of local body fat deposits that have responded poorly to diet and exercise; and (3) is bothered by these fatty areas, and is motivated to get rid of them permanently. You don't have a lot of time to spend in recovery. – SmartLipo patients are typically back to work within 1–2 days following the procedure. Bandages are removed 1–2 weeks after that.
To be a good candidate for SmartLipo, you should have realistic expectations about the procedure's capabilities. And while SmartLipo can improve your appearance and self-confidence, it won't necessarily match your mental ideal, nor will it cause other people to act differently toward you. Before you decide to have SmartLipo, think carefully about your expectations and discuss them with the doctor during your consultation visit.
SmartLipo, the safe, affordable and permanent alternative.
Learn More: Lipo FAQs
Request an appointment online or call (240) 686-1222. We will do our best to accommodate you.